Overnight, Elon Musk finally presented the long-awaited update to his Mars plans from the IAC annual conference in Australia (thus the overnight thing).
Last year's big reveal was grandiose but left a lot of questions as to how they planned to pay for it. This year's version looks more realistic considering the work they've already done, but it still seems like they'd need to pursue an intermediate step. Something like Dragon V.3, maybe replacing the trunk with a beefed-up extended duration module – or a landing stage. I keep thinking of the old Estes Mars Lander: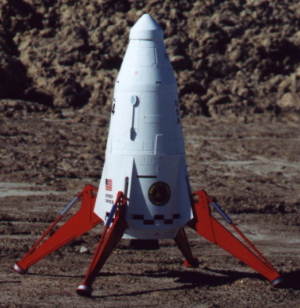 Speaking for moi, I was polishing my resume surprised to see him offer point-to-point suborbital passenger service on the BFR. I've read about that somewhere, no doubt from some hack writer…
Nothing else really original from me so maybe the rest is just clickbait, but it's good clickbait:
SpaceX finally gets real, according to Ars Technica. Meanwhile, The Verge notes that Musk is throwing everything at Mars. Let's hope he chooses wisely.